Planning, Performance Monitoring and Evaluation Framework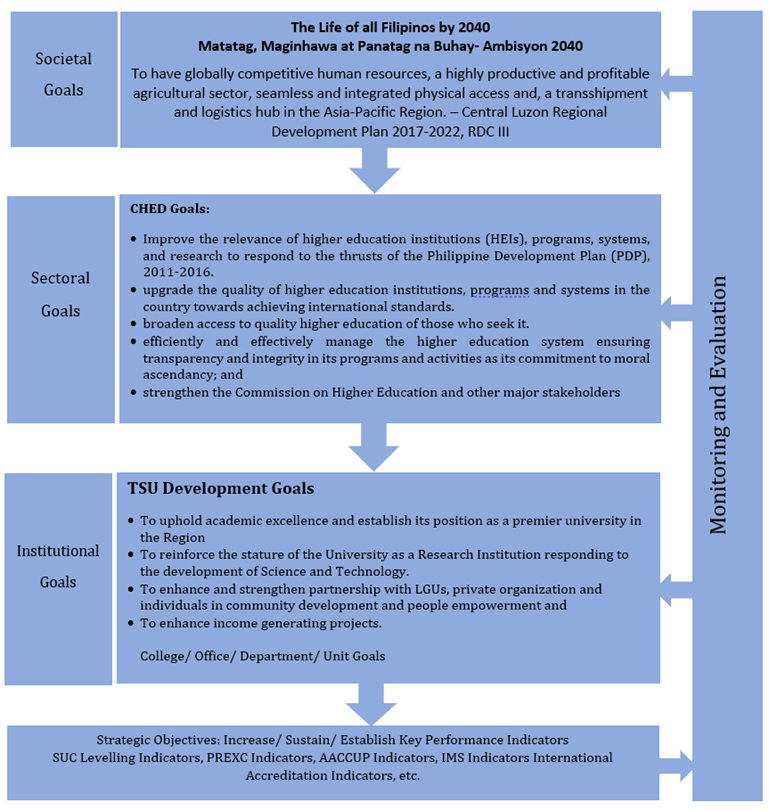 The Framework shows the process of continuous plan/goals towards the University's vision of becoming a Premier University in the Asia-Pacific Region. It was anchored on Societal, Sectoral and Institutional Goals.
Societal goals depict the collective long-term vision and aspirations of the Filipino people for themselves and for the country in the next 25 years. It describes the kind of life that people want to live, and how they want the country to be by the end of 2040. The Central Luzon Regional Development Plan, RDC III reflects the development agenda of the current administration highlighting the role of the region in achieving the overall goal of inclusive growth a high trust society and a competitive knowledge economy. Followed by the sectoral goals, where CHED is in charged with promoting relevant and quality higher education, ensuring access to quality higher education, and guaranteeing and protecting academic freedom for continuing intellectual growth, advancement of learning and research, development of responsible and effective leadership, education of high level professionals, and enrichment of historical and cultural heritages.
TSU upholds and supports the goals of the Ambisyon Natin 2040 and CHED. The achievement of TSU Development Goals will lead to the realization of its Vision.